Meta's annual Meta Connect conference took place on September 27 and 28, 2023, with CEO Mark Zuckerberg unveiling significant advancements in artificial intelligence (AI) and virtual reality (VR) technologies. These innovations have the potential to revolutionize various aspects of human interaction, work, and entertainment.
Throughout Meta Connect 2023, a recurring theme was Meta's strategic commitment to advancing AI technologies. Mark Zuckerberg emphasized that AI represents a crucial component of Meta's future growth strategy, and he announced several groundbreaking AI projects:
Meta AI
Meta AI, a conversational AI similar to ChatGPT, is based on the LLAMa-2 casual AI model. This AI will be seamlessly integrated into Meta's messaging platforms, including Facebook Messenger, Instagram, and WhatsApp, enhancing user experiences with natural language understanding and response generation.
Ray-Ban Meta smart glasses
Do you need new glasses? Meta's new Ray-Ban smart glasses have you covered.
A 12-megapixel camera and an LED light that turns on to alert others that you're recording are housed in two round modules on either side of each eye.
The glasses allow you to livestream to friends and followers.
When you consider frame colour, style, and lenses, there are over 150 design combinations available.
Certain markets are now accepting preorders. For standard lenses, the price starts at $299. Transitions are $379 and polarised runs are $329.
Text translation will be available soon.
AI Image Generator – Make-A-Scene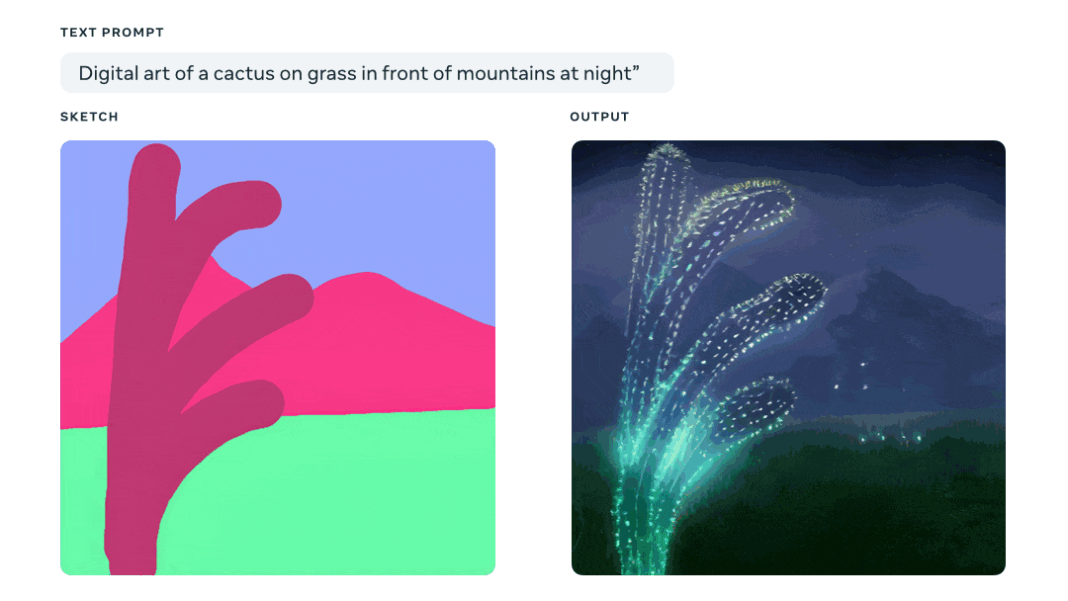 Meta introduced a novel AI image generator known as "Make-A-Scene." Users can create personalized AI-generated images by providing textual prompts. Impressively, this technology can produce images within mere seconds, unlocking creative possibilities for users.
AI Avatars
Meta is actively developing AI avatars with distinct personalities tailored to specific topics such as cooking, travel, sports, and more. These avatars are inspired by celebrities like Snoop Dogg, Paris Hilton, and Simone Biles. They can engage in natural conversations and provide personalized recommendations, enriching user interactions.
AI Editing Tools for Instagram – AI Stickers
In 2023, Meta plans to introduce AI-based image editing tools on Instagram. Among these tools, "Restyle" allows users to transform image styles using text prompts, while "Backdrop" facilitates background alterations. These features harness the power of Meta's AI research to empower users with creative image editing capabilities.
Learn more: Meta Code Llama: A Revolutionary AI Tool for Coding and Debugging
Meta's Push into VR with Meta Quest Pro
A significant highlight of the event was the introduction of Meta's latest virtual reality headset, the Meta Quest Pro. This VR device boasts a sleeker and lighter design, aiming to make VR more accessible to the mainstream audience. Several noteworthy features were unveiled:
Hybrid Reality and Full-Color Passthrough
The Quest Pro incorporates high-resolution outward-facing cameras that enable mixed reality experiences. Users can seamlessly view the real world overlaid with digital objects. Full-color passthrough technology enhances the naturalness of this blended experience.
Eye and Face Tracking
The headset integrates eye tracking and face tracking technology, enabling avatars to establish natural eye contact and convey lifelike facial expressions within virtual worlds. Precisely tracking up to 50 motion points on the face enhances immersion.
Hand Tracking and Virtual Touch
An exciting development is the inclusion of hand tracking, allowing users to interact in VR without the need for controllers. "Virtual Touch" technology replicates sensations like textures and pressures when users touch digital objects, deepening the sense of presence.
Built for Productivity and Collaboration
Meta emphasized the Quest Pro's potential in business applications, including virtual office spaces, 3D model visualization, and remote collaboration. The headset seamlessly integrates with Microsoft applications such as Office, Teams, and Windows, facilitating productivity and teamwork.
Analysis: How Meta's AI and VR Plans May Impact the Future
Meta's announcements at Meta Connect 2023 have significant implications for the future of online experiences. Here's a more detailed analysis:
Mainstreaming of AI: Integrating conversational AI into popular social apps exposes millions of users to advanced natural language processing. This strategic move could accelerate the adoption of AI-powered virtual assistants among everyday consumers, transforming the way people interact with technology.
Rise of VR/AR: While the Quest Pro may not immediately achieve mass consumer appeal due to its price, Meta's continued investments signal a commitment to the eventual development of augmented reality (AR) glasses. This positions Meta as a potential leader if the AR/VR market gains momentum, potentially reshaping digital experiences.
The Metaverse: Meta's vision of an immersive virtual world powered by AI relies on broader VR adoption. However, this 3D version of the internet remains largely conceptual for now, awaiting further development and user acceptance.
User Privacy Concerns: The introduction of advanced camera and sensory tracking technologies by Meta raises privacy concerns. There are apprehensions about the potential misuse of biometric data collection and AI-generated content. As a result, increased regulatory scrutiny may be on the horizon for these technologies.
The Road Ahead
Meta's vision for the future of conversational AI and VR is ambitious, requiring continued breakthroughs in artificial general intelligence and mixed reality hardware. Meta is poised to invest heavily in early-stage R&D to advance these technologies further. The trajectory of AI and VR in the 2020s will ultimately determine if Meta can realize its bold vision for the future.
Frequently Asked Questions – FAQs
What is Meta Connect 2023?
Meta Connect 2023 is an annual conference where Meta unveils its latest advancements in AI and VR technologies.
What is Meta AI?
Meta AI is a conversational AI model integrated into Meta's messaging apps like Facebook Messenger, Instagram, and WhatsApp.
How does Make-A-Scene work?
Make-A-Scene is an AI image generator that creates images based on text prompts provided by users, generating unique visuals in seconds.
What are AI avatars in Meta's developments?
AI avatars are personalities inspired by celebrities, designed for natural conversations and personalized recommendations in various topics.
What features make the Meta Quest Pro stand out?
The Meta Quest Pro features high-resolution cameras for mixed reality experiences, eye and face tracking, hand tracking, and virtual touch interactions.
How does Meta address user privacy concerns in AI and VR?
Meta acknowledges privacy concerns and is likely to face increased regulatory scrutiny as it develops advanced camera and sensory tracking technologies.
Conclusion
Meta Connect 2023 provided an exciting glimpse into Meta's research and development roadmap. By seamlessly integrating advanced AI into its social platforms, Meta aims to enhance user engagement and set the stage for an immersive, embodied virtual world. This ambitious vision could reshape the future of digital interactions.
Related: Llama 2: What You Need to Know About Meta's Open AI Model